Here is a quick entry about a trip I took this spring.
For a few years now I have wanted to go to the Overland Expo out in Arizona, but it just never worked out for whatever reason.  This year I bought a KTM 990R from a buddy of mine, and rode it around a few weeks, did some maintenance on it and took off for Arizona.
The first day on the road took me from Wisconsin to Iowa for a quick stop at a friends dealership in Iowa City, and then into Missouri.
Photo by Jeff Simpson / Sun & Fun Motorsports
I made it to Rolla Missouri and while looking for a place to eat, I noticed a cheap dive motel, and some dark clouds and called it a day. The motel was pretty sketchy and I was actually a little surprised to see the bike outside in the morning.
The next morning I got the bike packed up and hit the road, and went through the rest of Missouri, and into Oklahoma, with a short wrong turn into Kansas due to the GPS trying to avoid toll roads. I turned that off and hopped on the toll road and went all the way across Oklahoma and into Texas.
The day ended while riding into Amarillo Texas and noticing a KOA campground not too far off the highway.  I wanted to camp out in the boonies, but convenience and a warm meal won out, so I shelled out the money for a KOA.
The following morning I was itching to get into the heart of the west, and so far I haven't been making as many miles as I was hoping. The first day was around 600 miles, the second ended up being around 700, and today would also end up being 700.  I left Amarillo, into New Mexico and through Albuquerque where my Garmin Zumo GPS decided to take its last breath.  Luckily I had some maps loaded on my Garmin 60CSX which I was going to use for off road sections.
Towards the end of the day I finally rolled into Flagstaff and made a quick stop for gas and camping food and head down into Oak Creek Canyon towards Sedona.  While it was mid-week, many of the campgrounds were full.  I didn't mind riding up and down the canyon looking for a site, and I was really close to calling it quits and doing some guerrilla camping on the canyon rim when I found an empty site in the canyon.
The next morning I wandered around Oak Creek Canyon and Sedona, then I picked up more supplies and headed towards Mormon Lake campground, where the Overland Expo was being held.
When I arrived at the Expo, I found out that what I was told about signing up for the whole weekend "Experience package" couldn't be done on-site, only online ahead of time.  I guess I understand that they need to know how many people are coming to the workshops, but I was also quite bummed as that what one of the main reasons I wanted to go. With my work schedule, I couldn't say for sure if I'd be able to take the trip or not and didn't want to get hosed out of all of that money if I couldn't go, so instead I got hosed a different way.  Such is life..
Above you will see my campsite, pretty nice huh?  Well this was the second issue I had.  Once I paid my entry fee for the weekend, I was told all bikes park down on the other end of the grounds.  When I got to the other end, I was told I couldn't camp there because it was only for those that had signed up for the Rawhyde package.  I found a lady with a radio and she called in and they said "go camp anywhere in those trees". WRONG!  Turns out I picked a vendor site, luckily for me, nobody claimed it so I didn't have to move and ended up with a nice shady site.
Some of the bikes in the Motorcycle village.
While walking around the grounds, I was really impressed with all of the wild, well traveled rigs!
Earthroamer!
Some of the Rawhyde bikes
This vehicle is 50 state legal, wouldn't that be fun!
Since I call my site Lone Wolf Expeditions, it was cool to meet the folks from Wolf Bike Defenders, a group that is trying to help save the Mexican Grey Wolf.
It was really cool to see these folks, Terry, Sandy and Jack from the Adventure Trio.  Such a cool family and so full of energy and positive vibes, really good bunch there, living the dream.
Their new BMW's ready for the next big trip, check out their site, its awfully impressive!
It was a lot of fun walking around and seeing all of the cool rigs, and to meet some really interesting people.  I got to meet a few people that I have been following in the media and through Facebook.  The Overland and ADV communities are actually quite small, so it was a lot of fun talking to these interesting folks.
Some of the highlights were:
And so many others… It was crazy, so many cool, influential well traveled people in one location.
After part of the day Thursday and all day Friday at the Overland Expo, I was a bit worn out and ready to hit the road.  Saturday morning I packed up the bike and headed north…
Part 2:
So the last blog post ended where I decided to leave the Overland Expo and hit the road.  Sure I had paid for the whole weekend but I was anxious to hit the road. It's great to meet people and hear about their travels, but my travel time is limited so down the road I must go.
I headed up to Flagstaff and north through the great wide open which is northern Arizona. I had a decision to make, whether I was going to Page Arizona or to Monument Valley.  I knew I had time to do both, but I just didn't feel like riding 200 miles out of the way to go to Page, even though I knew it was where some of my best photo opps would be.  So Monument Valley was the destination, and since it is a tribal park, it had a $20 entry fee and since I was just passing through, I decided to skip it. I was quickly gaining a list of places to see "Next time", if there is a next time.  As I was leaving the Monument Valley area, I noticed a familiar view in my mirror, and quickly turned around to grab a few photos of this classic location.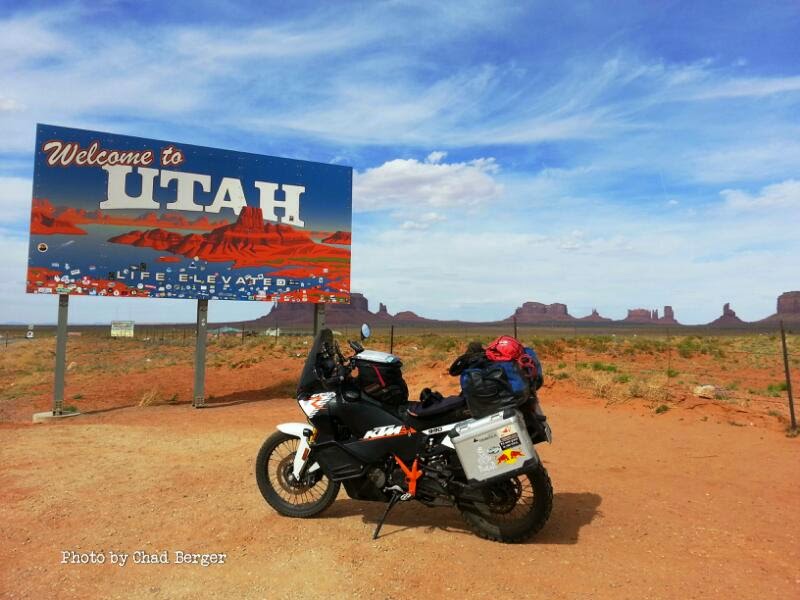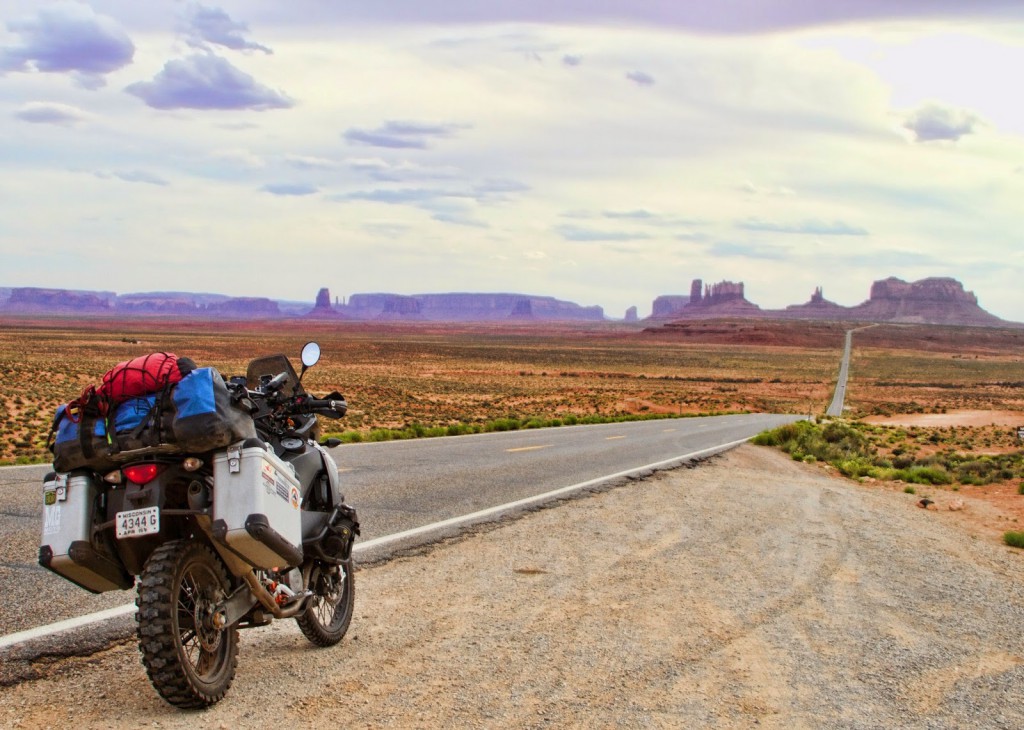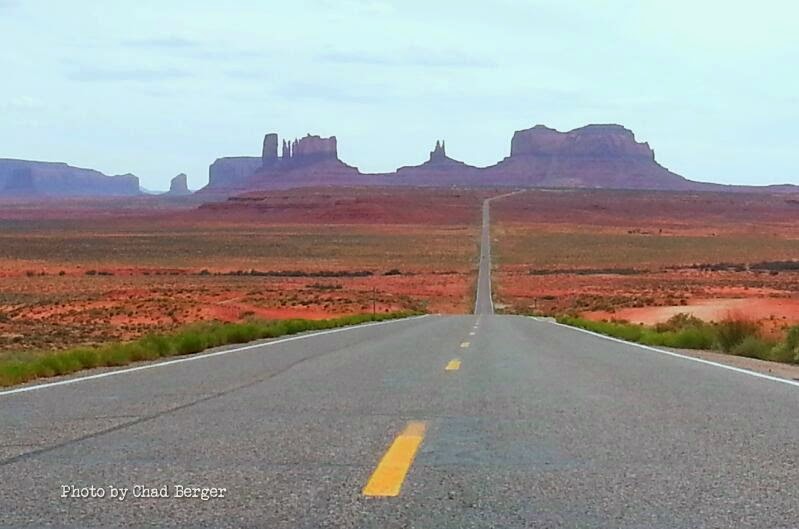 I went up through Mexican Hat Utah and did the Moki Dugway road, which is a windy gravel road that switchbacks from the desert floor to the top of the bluffs.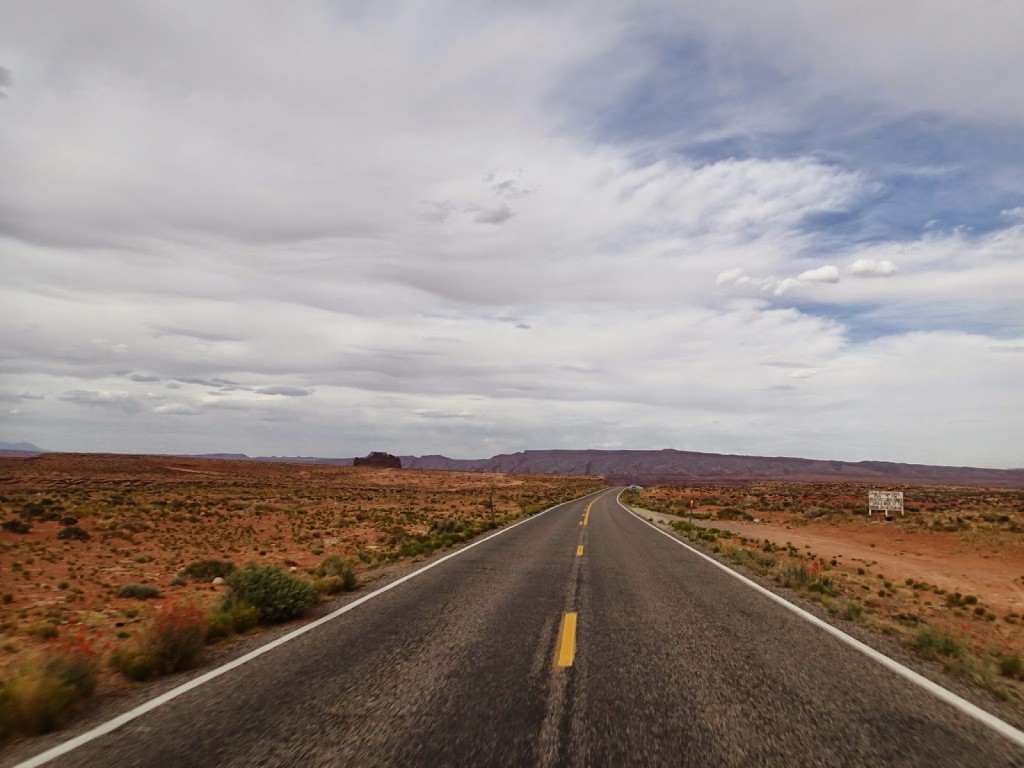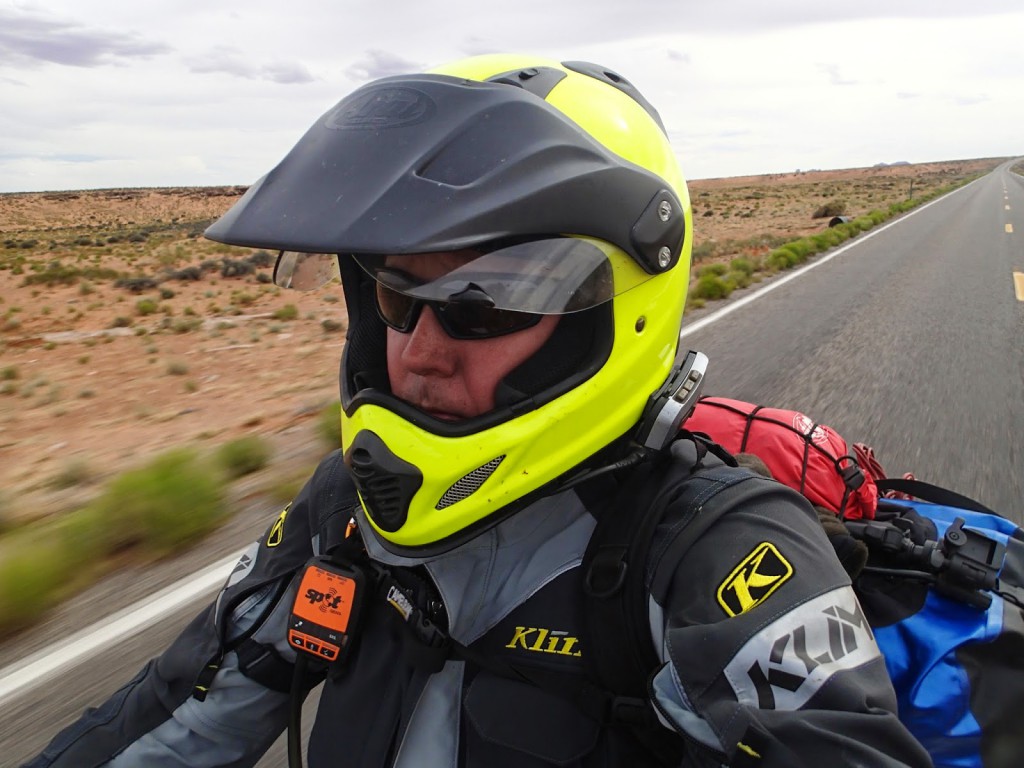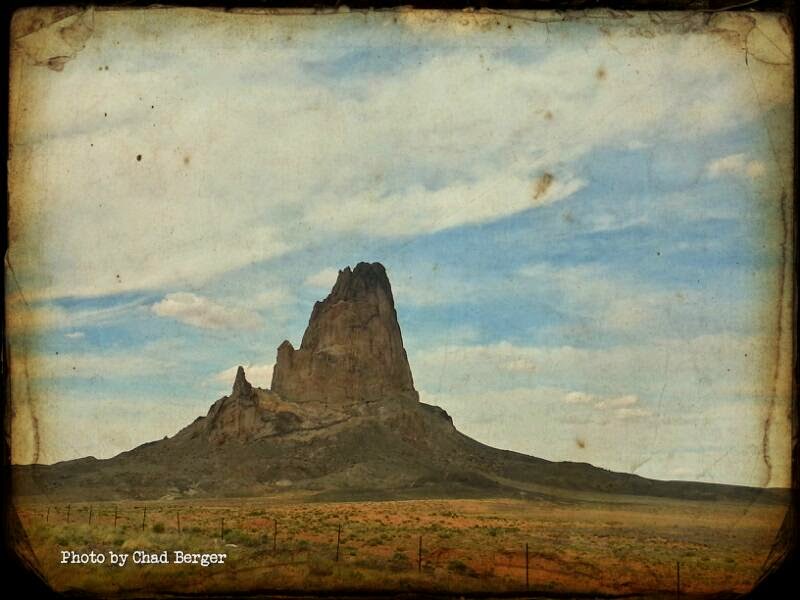 Towards the end of the day I passed a sign for a campground, then rolled into the small town of Bluff Utah. I gassed up the bike, and talked to a couple dudes from Colorado who informed me that the campground was pretty cool and I should really check it out.  I loaded up my bags with food and headed to the campground.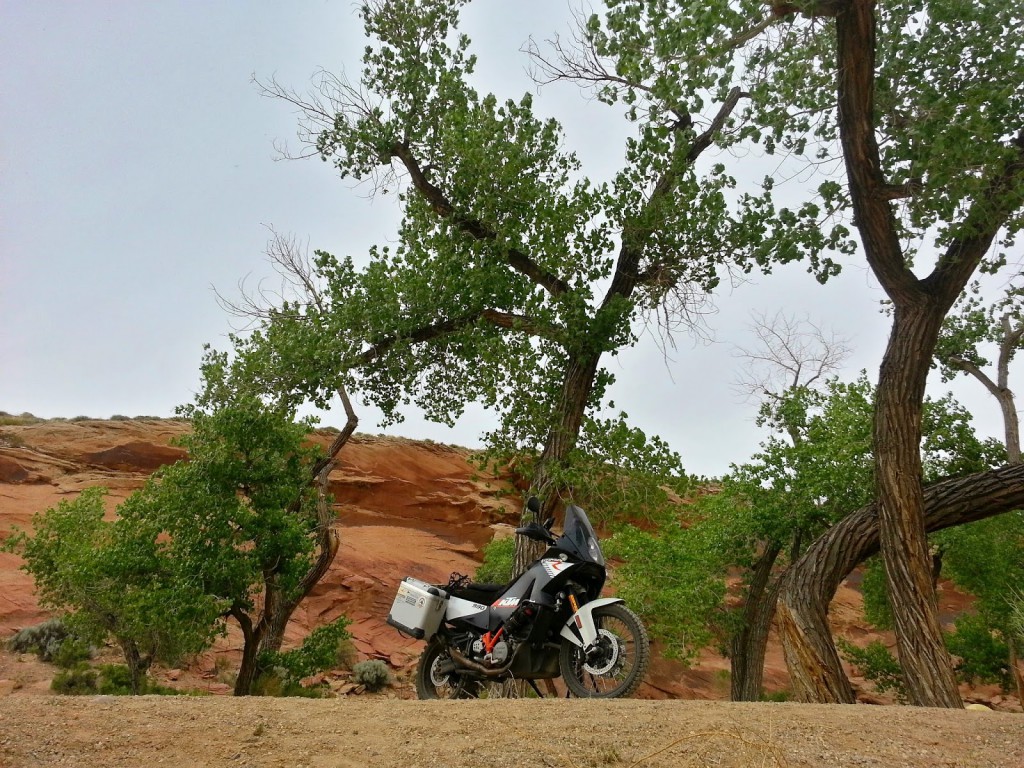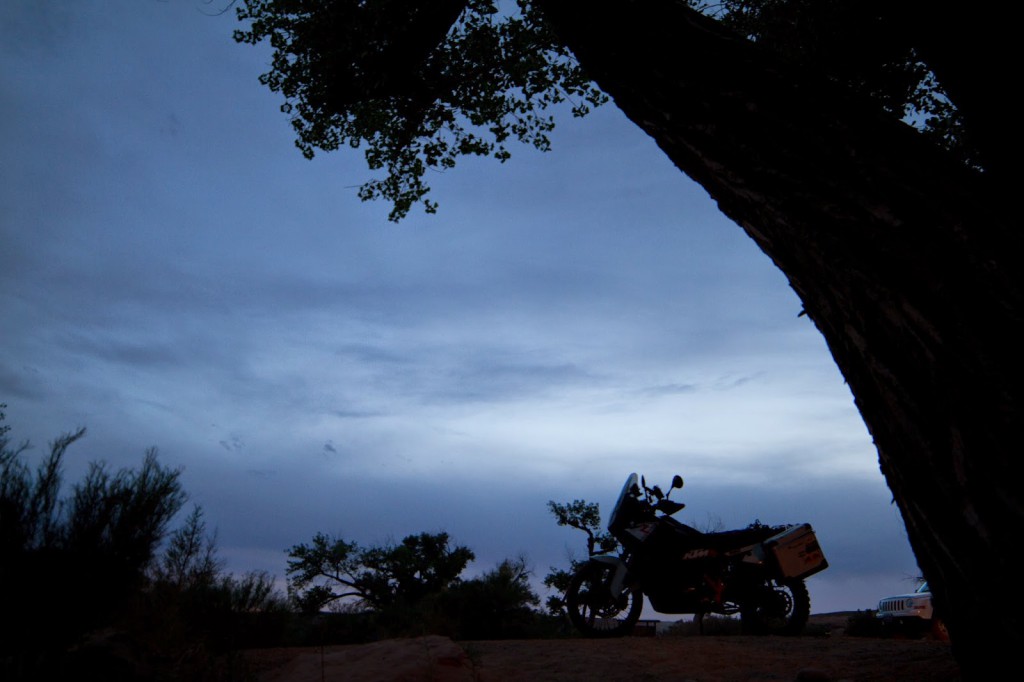 It certainly was a cool spot, right on the San Juan river.  The campsite is called Sand Island and its a popular spot for boat trips to put in and go for big river trips.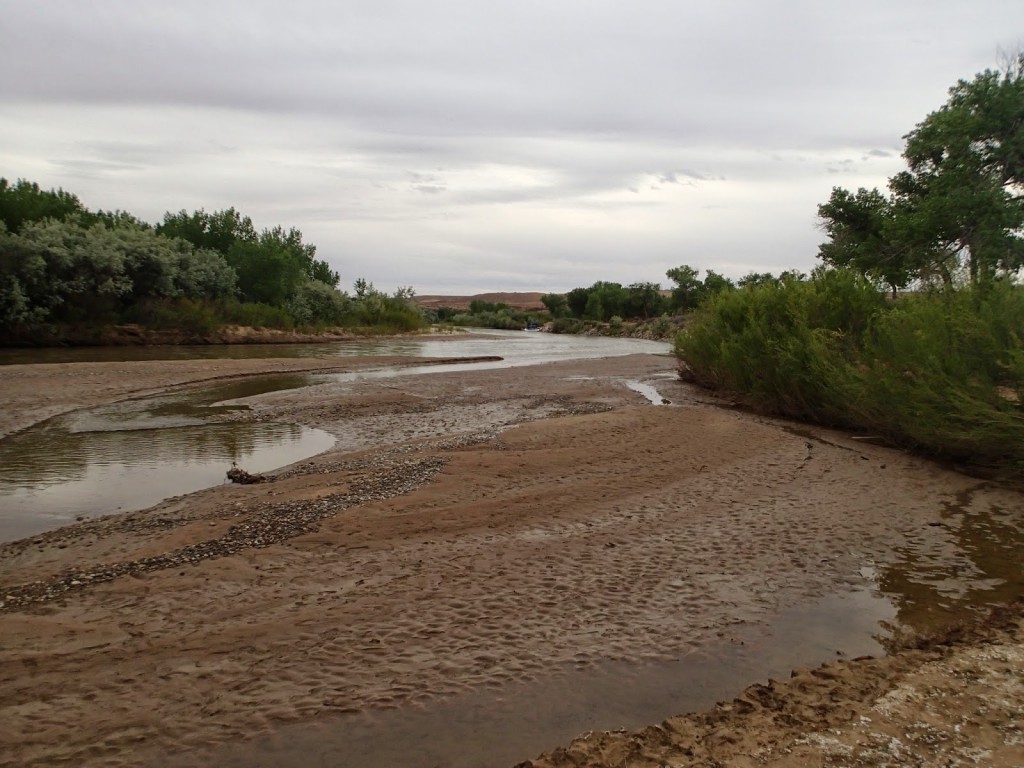 A couple of my campsite buddies. One thing about the desert, is that its nothing like Wisconsin! Snakes, lizards, scorpions…lots of new and interesting hazards.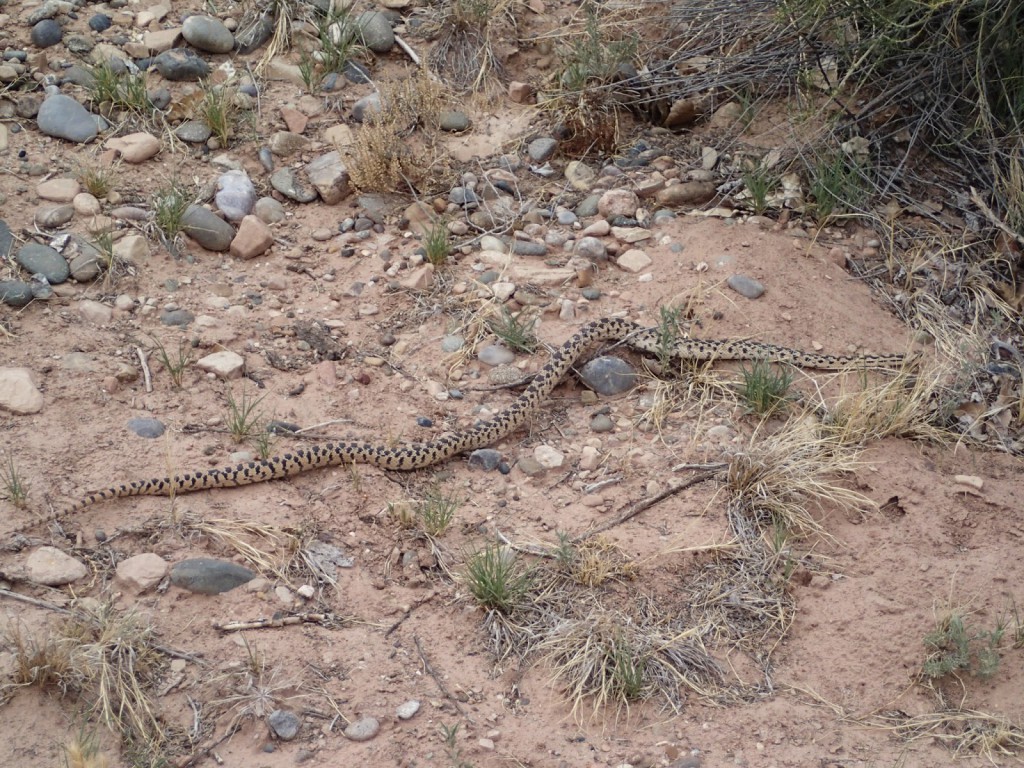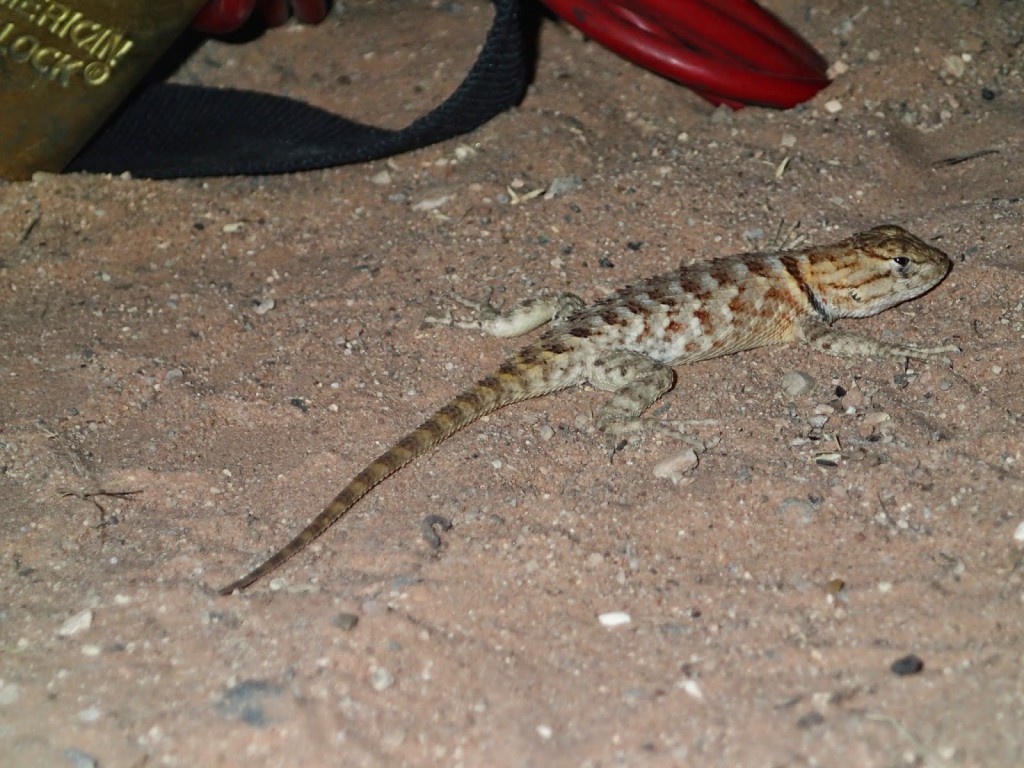 The next morning brought more desert landscape as I made my way up to Moab Utah. I made a side trip once I got to Blanding Utah and went out into the desert looking for some indian ruins I had read about, but unfortunately I had forgot to bring with my information on where I had to park, so I just continued towards Moab Utah.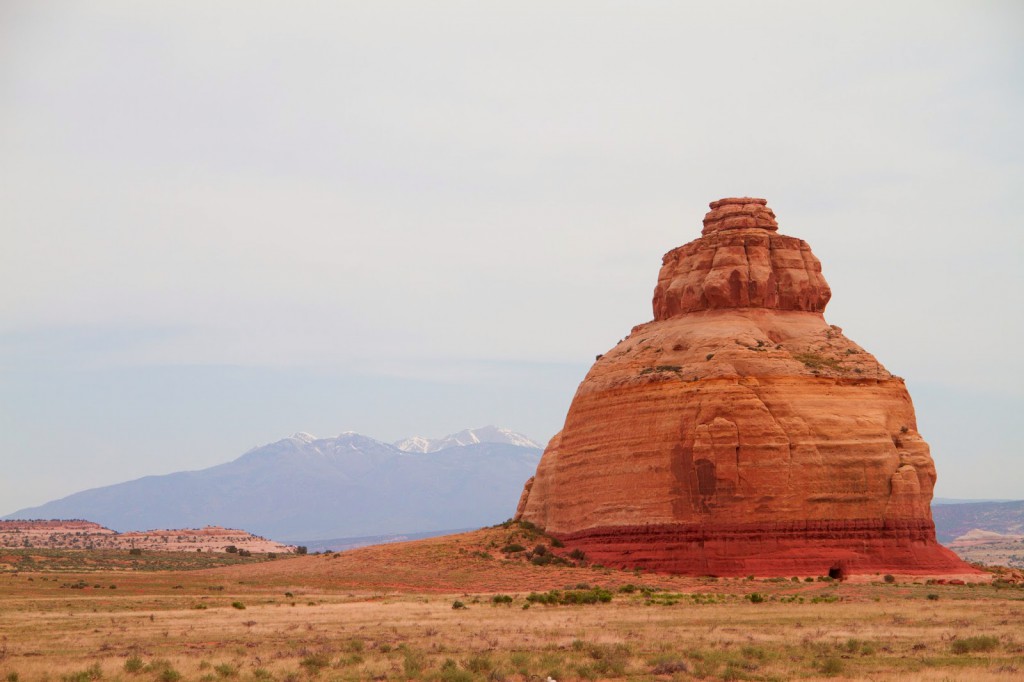 I rolled into Moab fairly early in the day, and stopped at a few of my favorite stores to get a few supplies.  It was really warm and I felt like a shower and a bed would be a good option. I checked a hotel that the locals told me was the cheapest in town, and they told me it was $90 a night.  Well thats not gonna work on this trip so I went to the Lazy Lizard hotel and they said I could have a private room for $28.  I had them put me down for two, and went out for a ride until my room was ready.
Kane Creek Canyon is a fun and familiar road to get back into the Moab groove.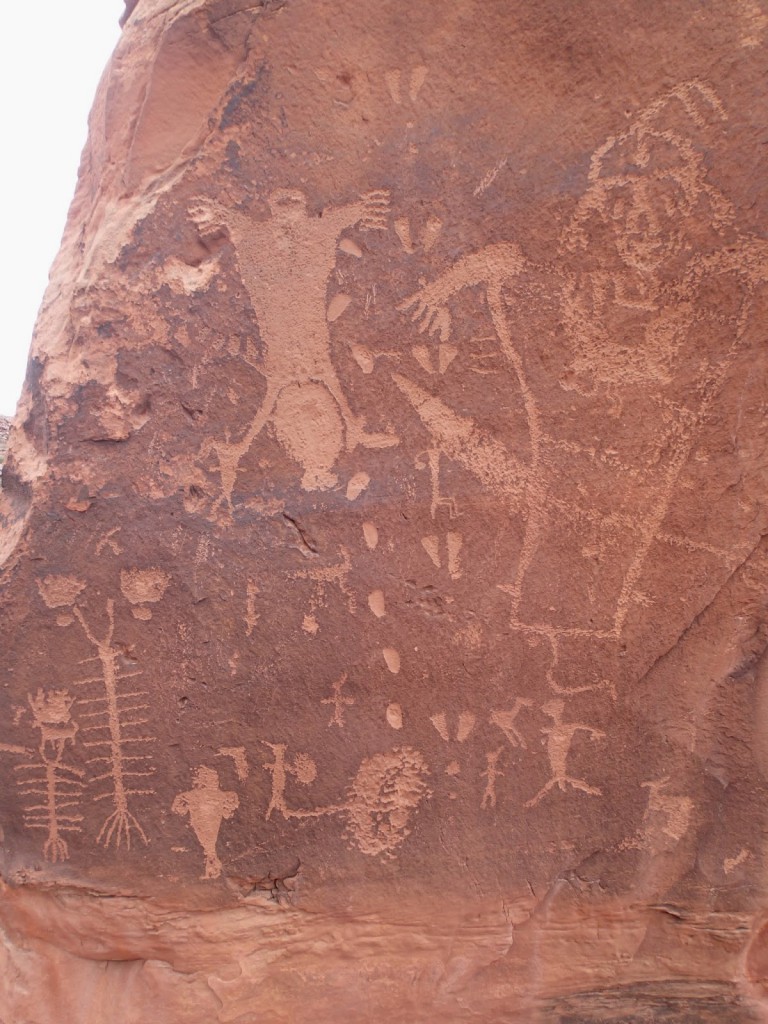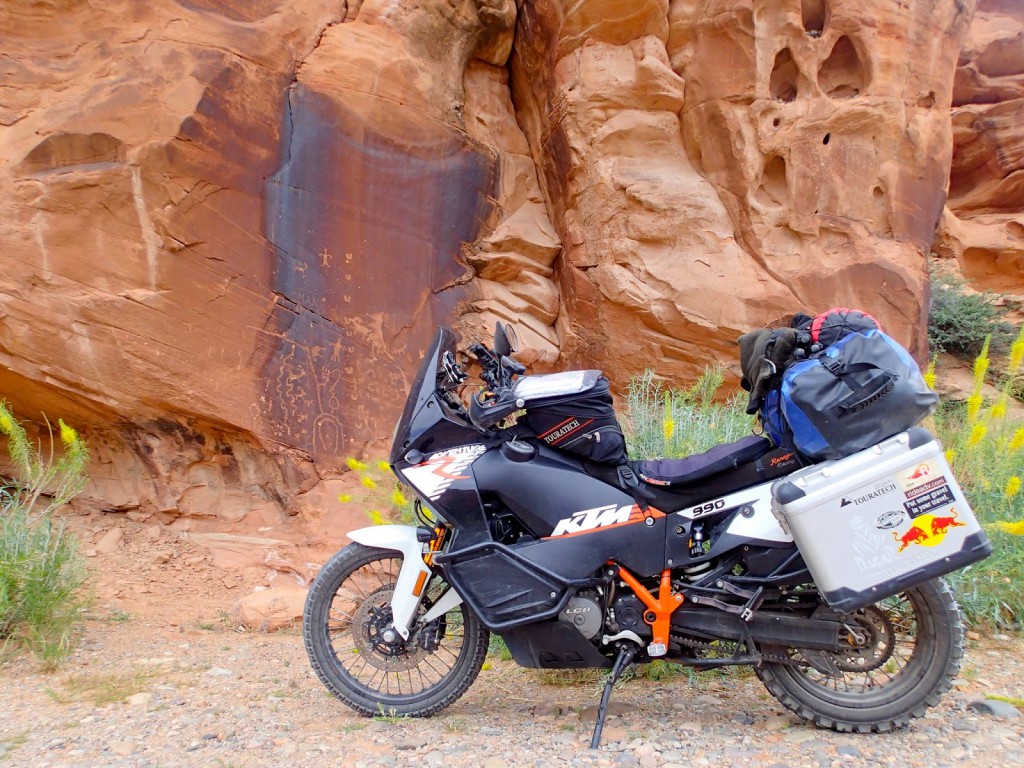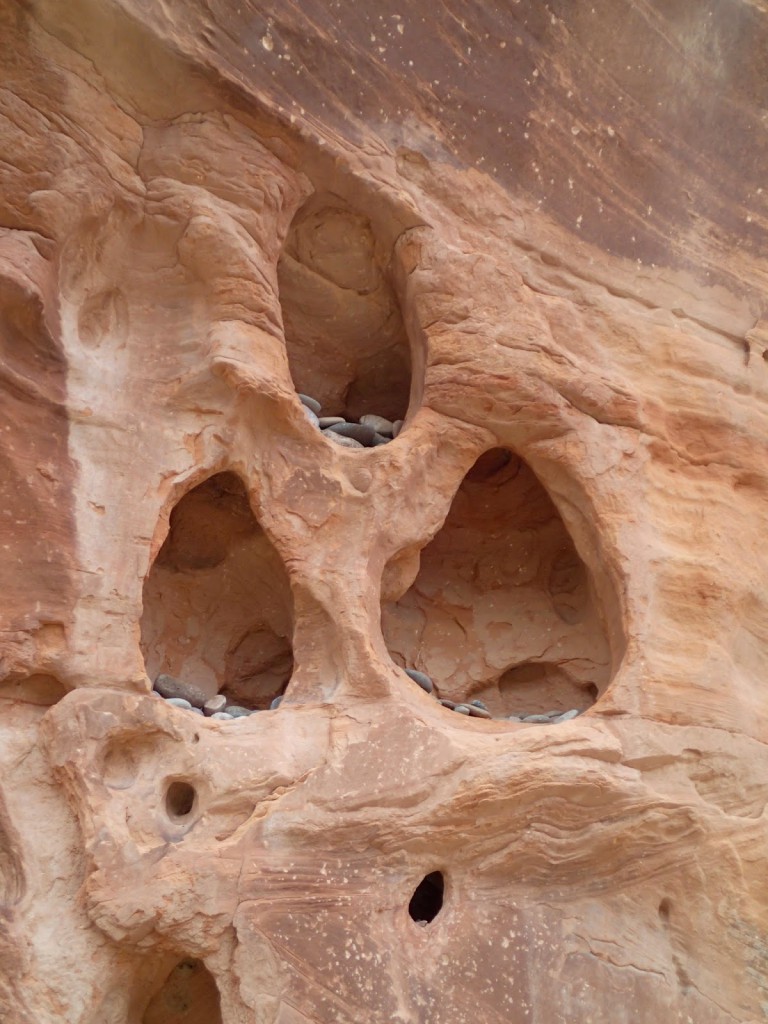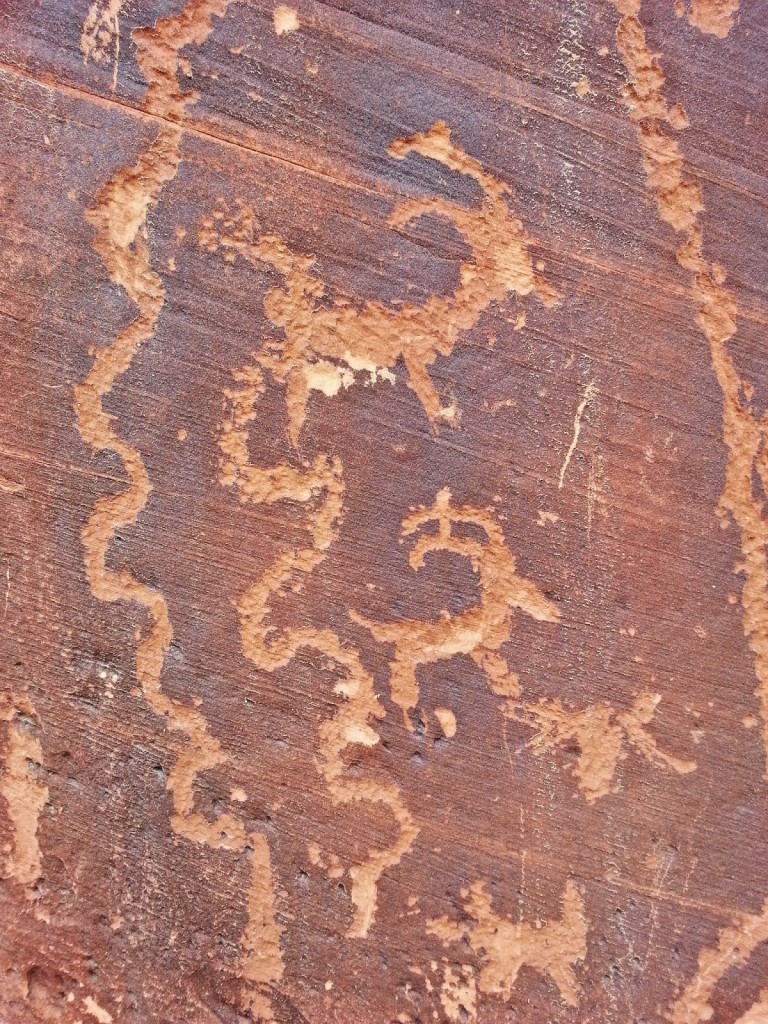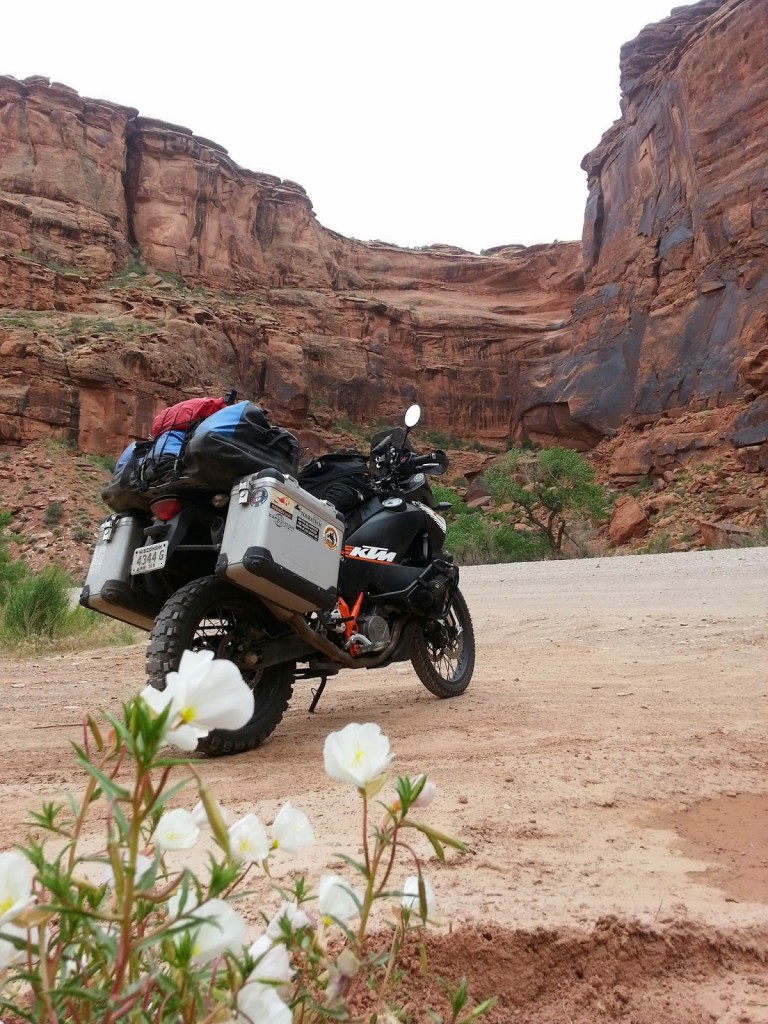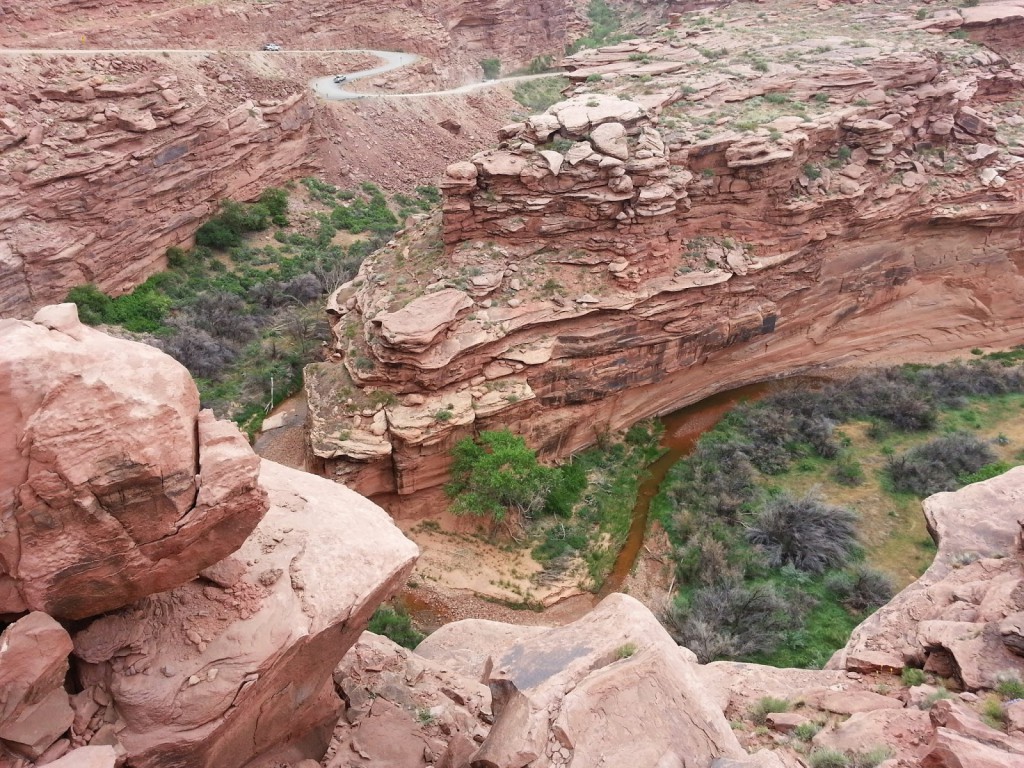 After a nice ride I headed back into Moab and checked into my room. A shower and a nap and I finally felt a bit human again. I went outside of the hostel and met a fellow traveler that was from Oregon I think, and we talked a while about places to see and I told him I wanted to go to Delicate Arch in Arches National Park, but I didn't think the sunset would be very nice tonight.  He told me "How many times are you going to be in Moab?" Good point, so I tried to find the correct selection of gear and headed off to Arches.
I assumed i'd be able to buy some water at the visitors center, but they weren't selling any and it was too far back to town to head back. I got to the Delicate Arch parking lot and noticed the sign that said it was somewhere around 3 miles round trip, physically demanding and required at least 1 liter of water. Well, I risked it and headed out, hiking in my motorcycle boots.
In this photo you can see how far away the parking lot is. This is about half way to the arch.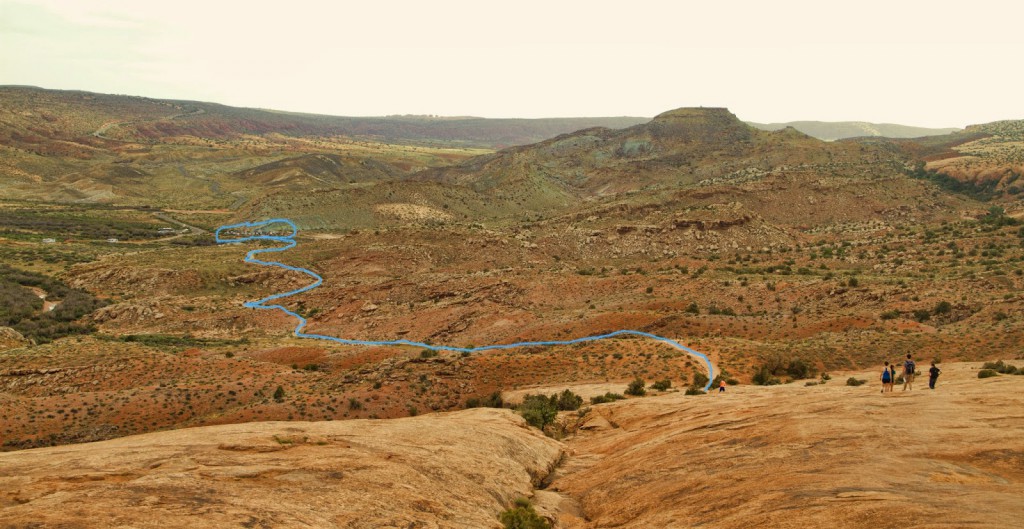 Delicate Arch was one of my Bucket List photos, so I was glad that I took the initiative to hike up there.
I hiked back to the bike and then rode back to Moab after dark.  I was pretty wiped out from the long day, so I stopped at a great Mexican restaurant and then picked up a few beers and headed back to the hostel.  The hostel was really hopping, and pretty much everyone there was gathered outside by the picnic tables.  I went down with my Ipad and did some research and sent some emails and enjoyed a couple beverages. While there I noticed a guy showing off photos on his laptop, so I introduced myself to him and it turns out he was quite a photographer and a motorcyclist as well.  He had done some cool bike trips and we ended up talking until 2am.
The next morning was one that I had planned on trekking out to Mesa Arch in Canyonlands National park.  Unfortunately the long day I had the day before and the short night meant that 5am was met with very little ambition.  I mustered up a little ambition and headed out, unfortunately it was later than I liked.  Once I was getting close to Canyonlands I saw the sun rising and realized I wasn't going to get to where I wanted for sunrise photos, so I stopped at a few spots and grabbed what I could.

I got to the Mesa Arch parking lot well after sunrise, and there were even a few photographers already coming back to the parking lot.  I figured I had nothing to lose and hiked out.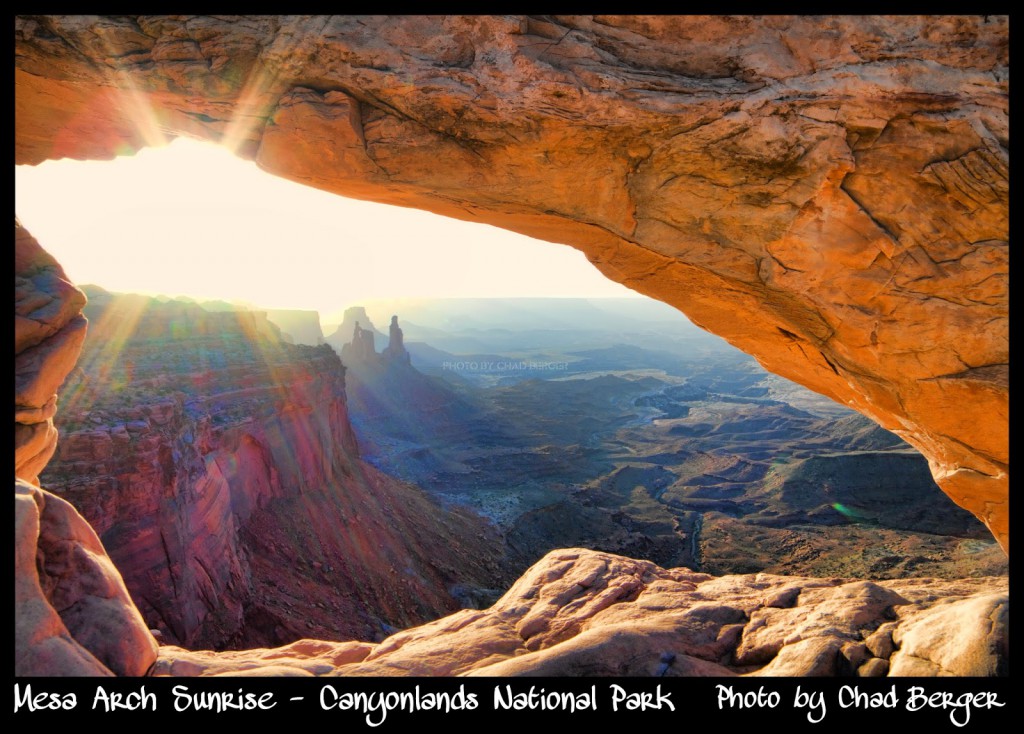 The sun was a little high, but overall it was still pretty cool!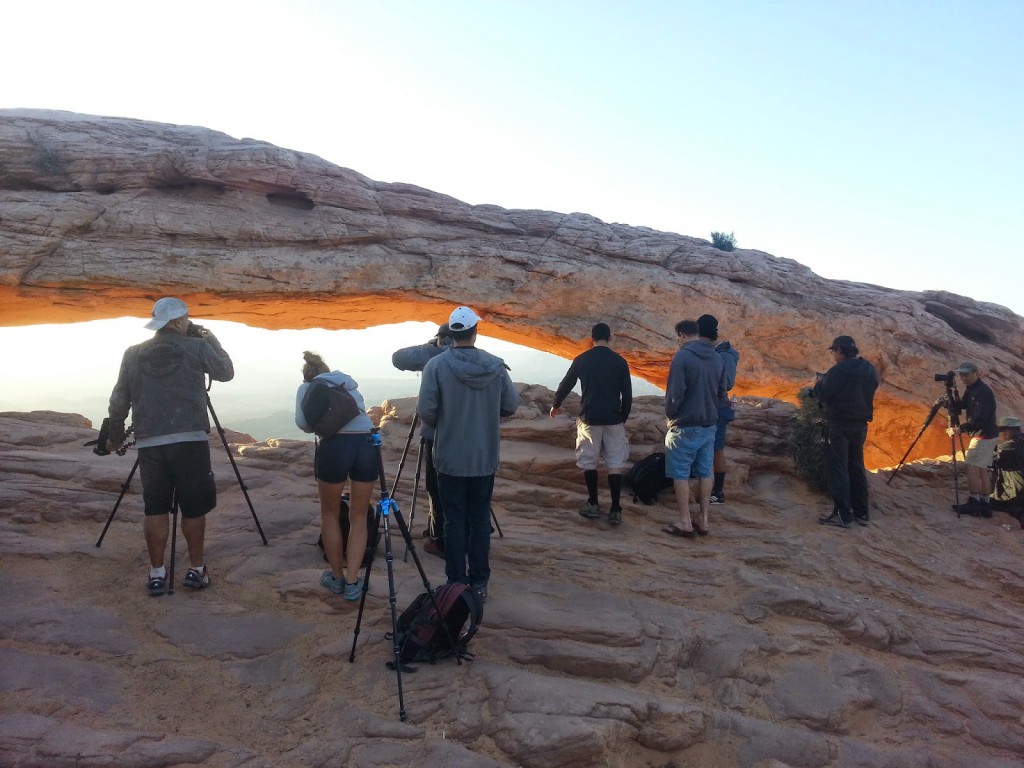 After leaving the arch, I headed down the Shafer Trail and into Moab.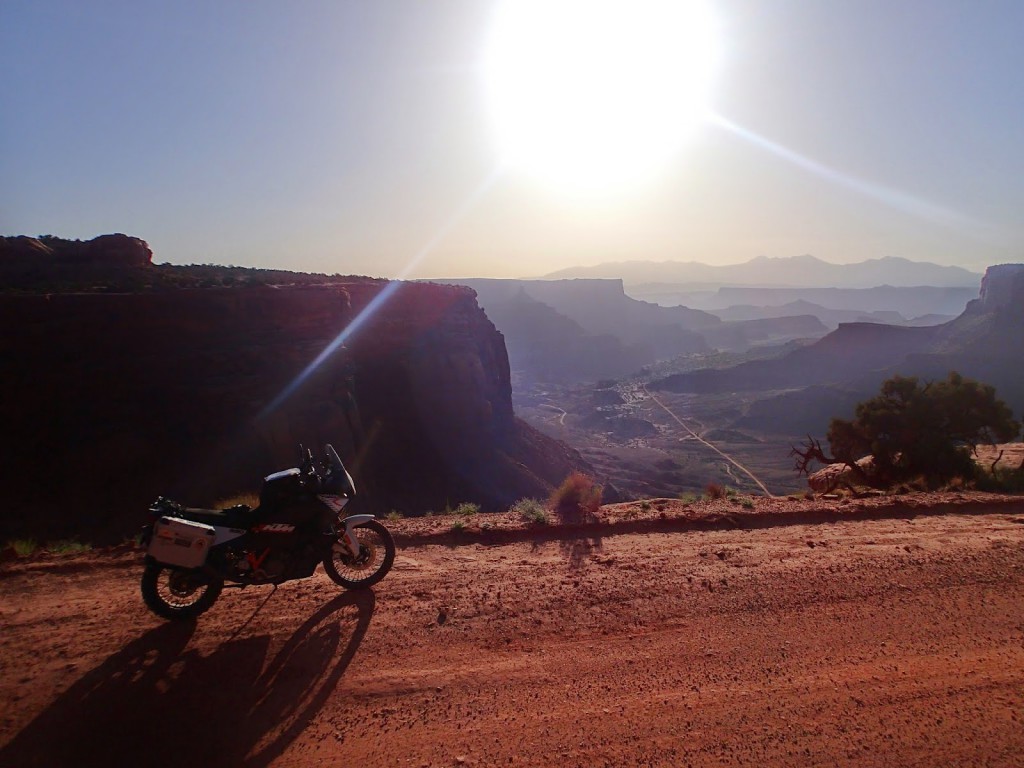 After this I went and ate breakfast and realized I was feeling pretty rotten from the lack of sleep, so I went back to the hostel and went back to bed!  I woke up early in the afternoon and went out and did the LaSal loop which leaves the red rock country and heads into the LaSal mountains.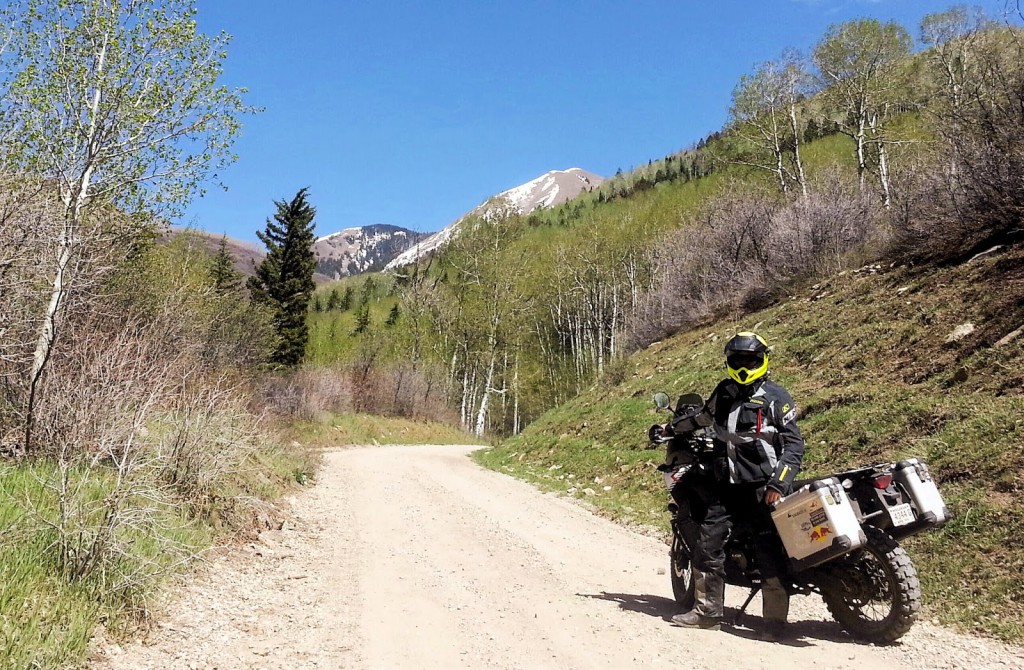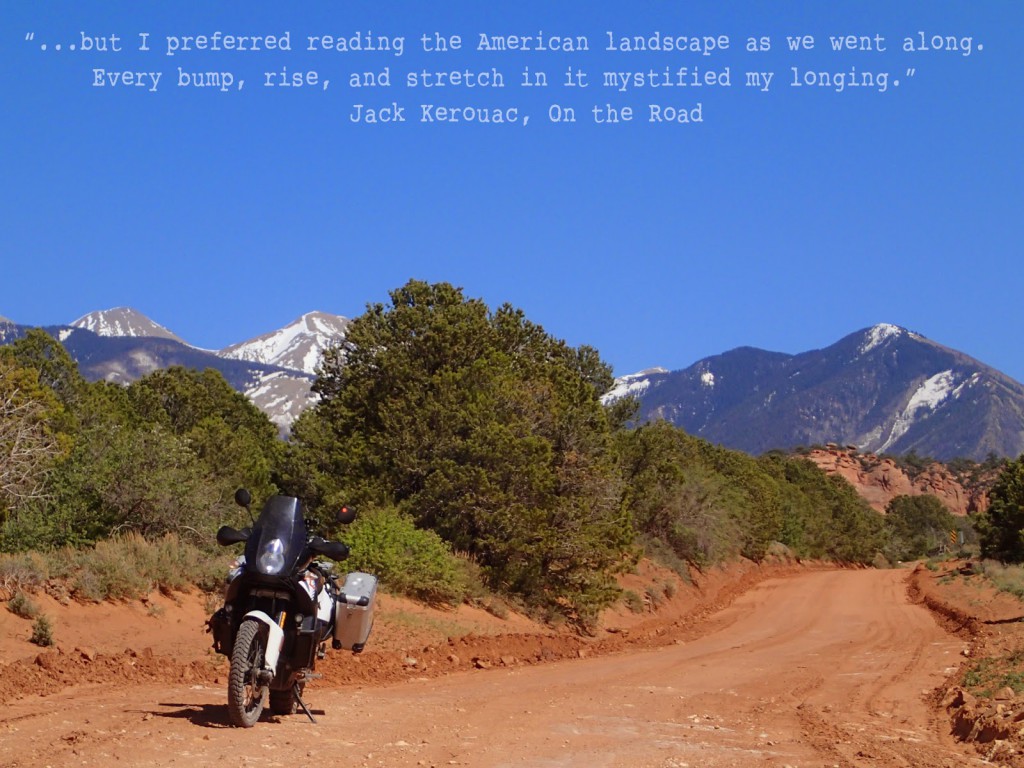 I ended up back in Moab and decided to do a little shopping and then went out on a sunset ride, which was fun but didn't result in many photos. I decided to check out my favorite Mexican restaurant again and met a Vietnam vet who was a chaplain and he wanted to do a prayer for me for safe travels. I told him I needed all the help I could get!  I also met a couple from St. Louis who said they were leaving in the morning because of the weather that was going to be hitting Colorado soon.  They advised me that I should do the same if I knew what was good for me.
I went back to the Hostel and did some research and it did look like things might get kinda rough in the mountains. There was a blizzard only a few days ago, so I knew it wasn't wise to press my luck and I didn't want to take that awful southern route again.  I looked online for a few places to stay for free and it looked like I was in business if I could make it all the way to Lincoln Nebraska, a mere 900 miles away.
I woke up fairly early the next morning and got my bike packed up. I was all set to go and I had the bike warming up when I realized I was leaking oil.  I had botched an oil change before I left home and had a bad O-ring on the filter cover.  I got a couple new o-rings from my buddy Ernie and while they weren't the correct ones, it seemed to work.  Well, this one lasted 2700 miles, and I wasn't going anywhere with a bike thats leaking oil.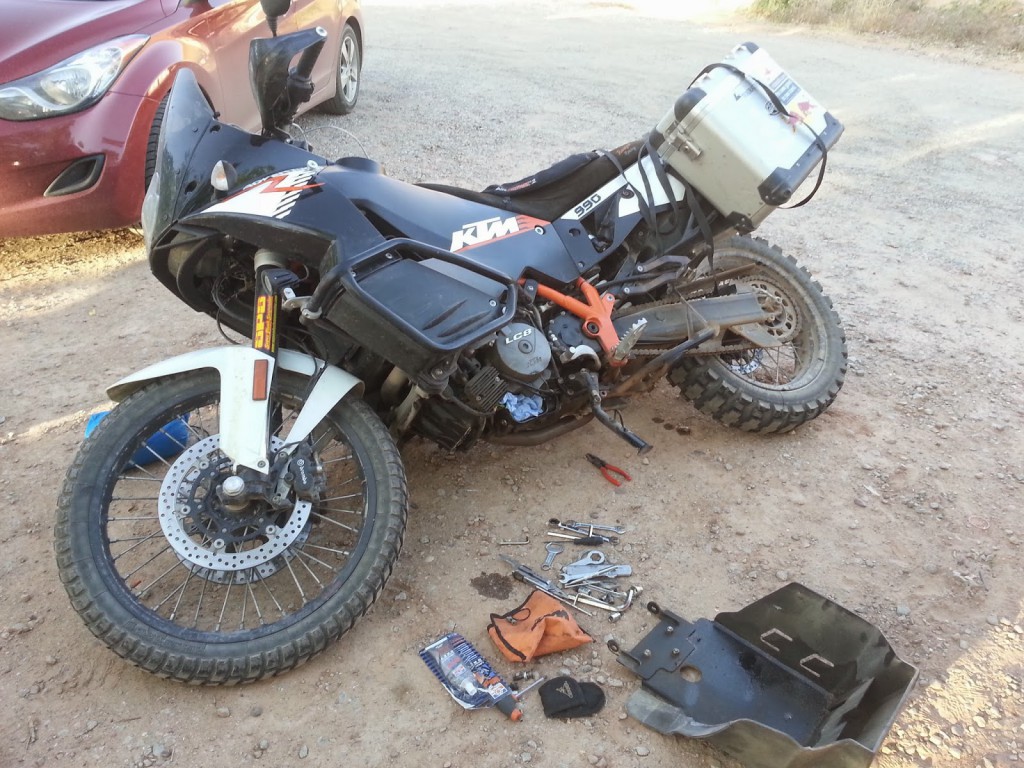 I got it cleaned up and a new o-ring installed and it seemed to be holding oil, so I buttoned it back up and loaded the bike back up. This little fiasco cost me an hour and a half and it was making Lincoln Nebraska seem like an unlikely goal. I put as many miles behind me as I could, with only stops for gas and a new o-ring at Grand Junction KTM and a few photos.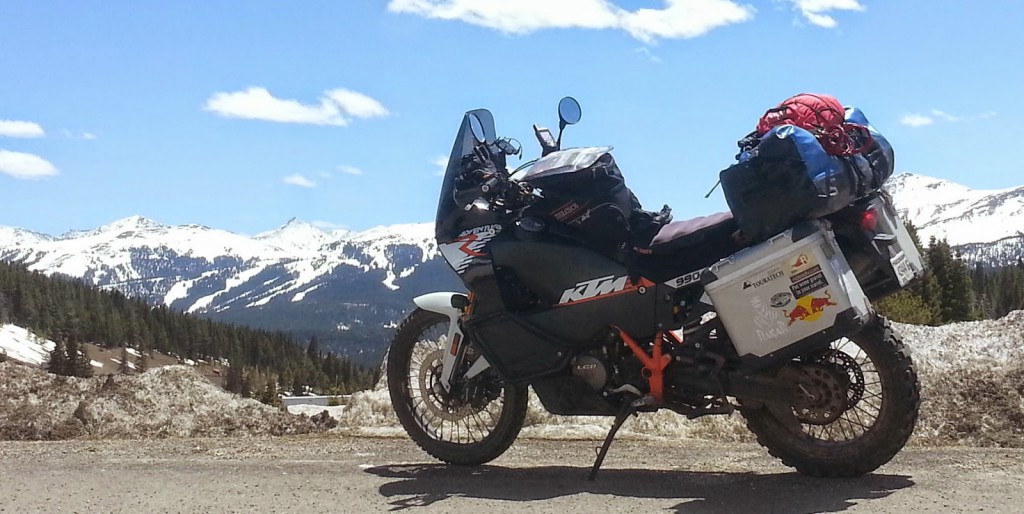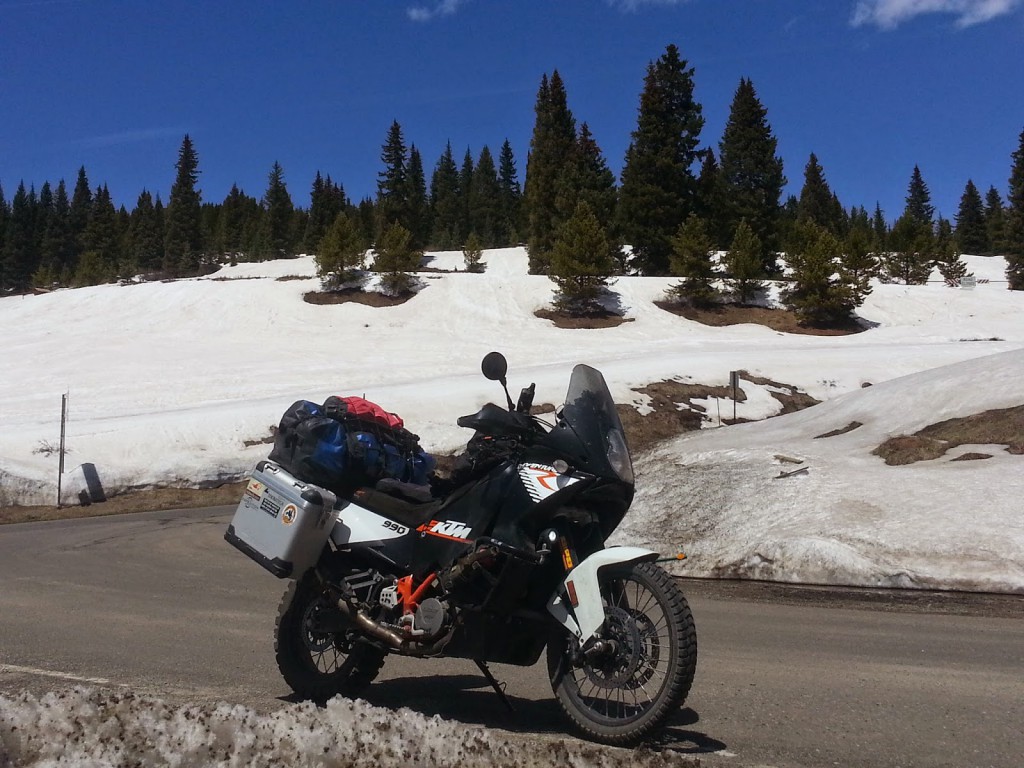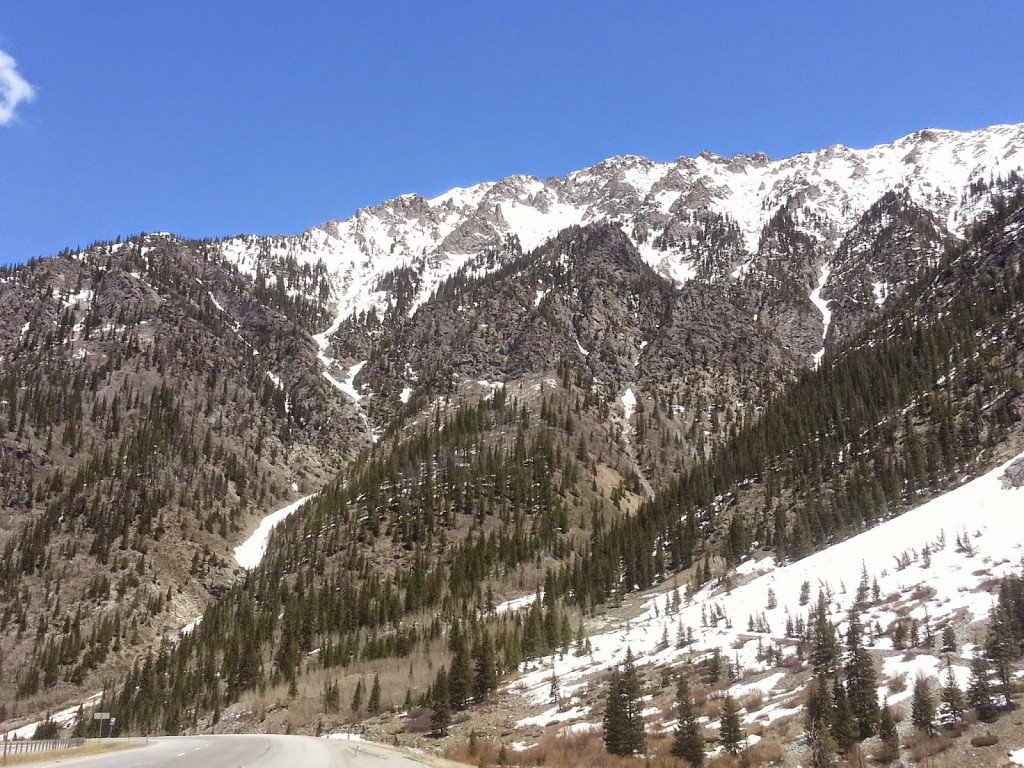 After this photo, things got kinda ugly. I headed into a severe thunderstorm near Denver which made travel difficult and dangerous. I got just to the eastern side of the storm and gassed up the bike and headed east in a rapid manner. I got near the Nebraska border before I needed gas again, and I could still see those storm clouds behind me.  I kept motoring on and kept my eye open for camping options, but I was weary due to the storms.  I made to central Nebraska and after seeing far too many dead deer alongside the road, I called it a night and grabbed another fleabag motel.  This one was clean, but the clientele were kinda sketchy, probably a great place to buy meth, but not so much a family destination.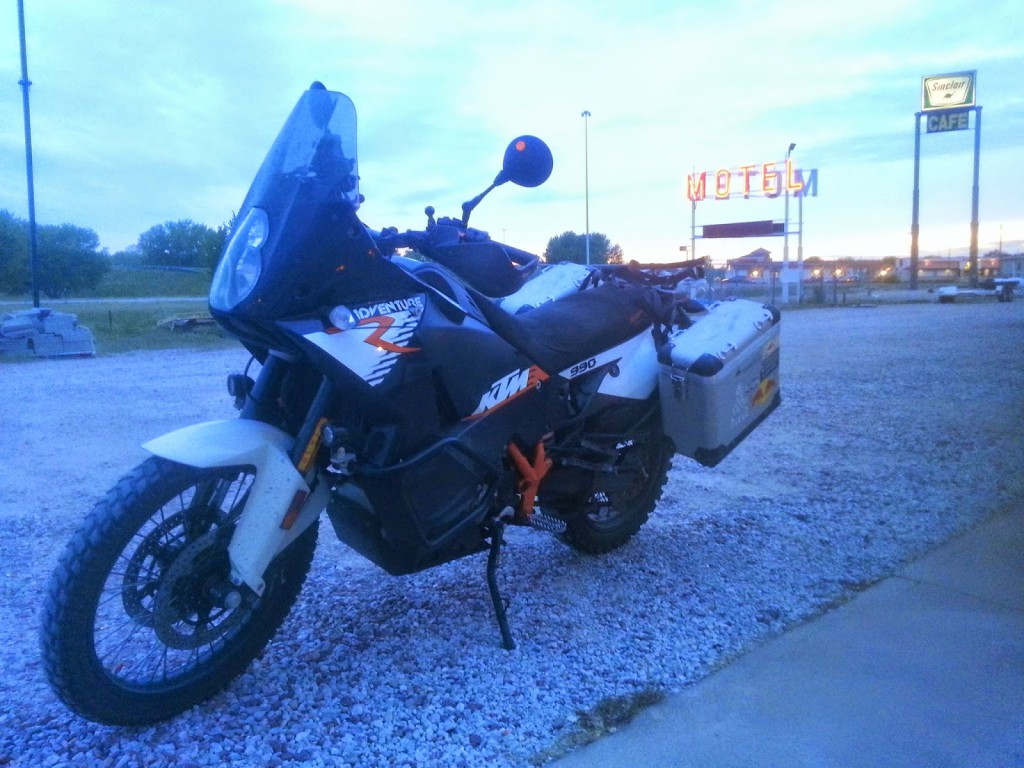 Once again I was relieved to see the bike was untouched during the night and packed up and headed towards home.  I still had a lot of miles to go, and when I got to Iowa, I felt that I was almost home, yet the GPS said I had almost 400 miles to go.
Fuel for the bike and a little something to keep me going as well.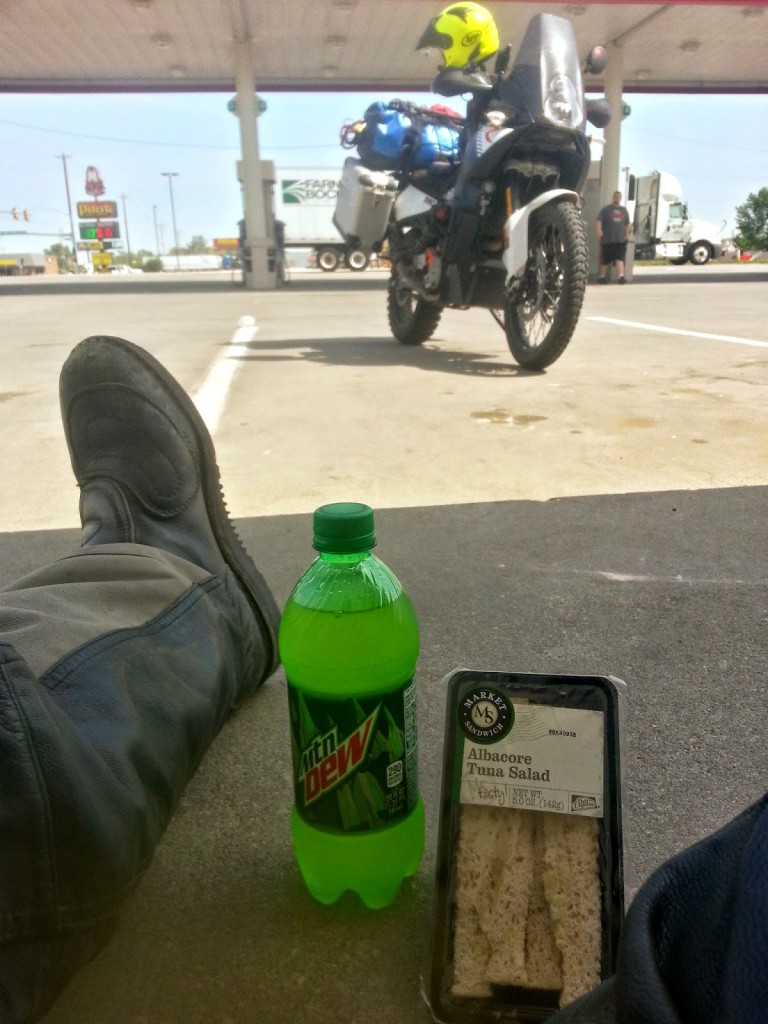 This bird was sitting on my bike, kinda like he was telling me which way to go.  There were a lot of subtle "signs" or messages that I caught onto on this trip.  It was kind of crazy how things were working out and how random people would say thing, and how songs would come on that seemed to echo some of the thoughts I was having.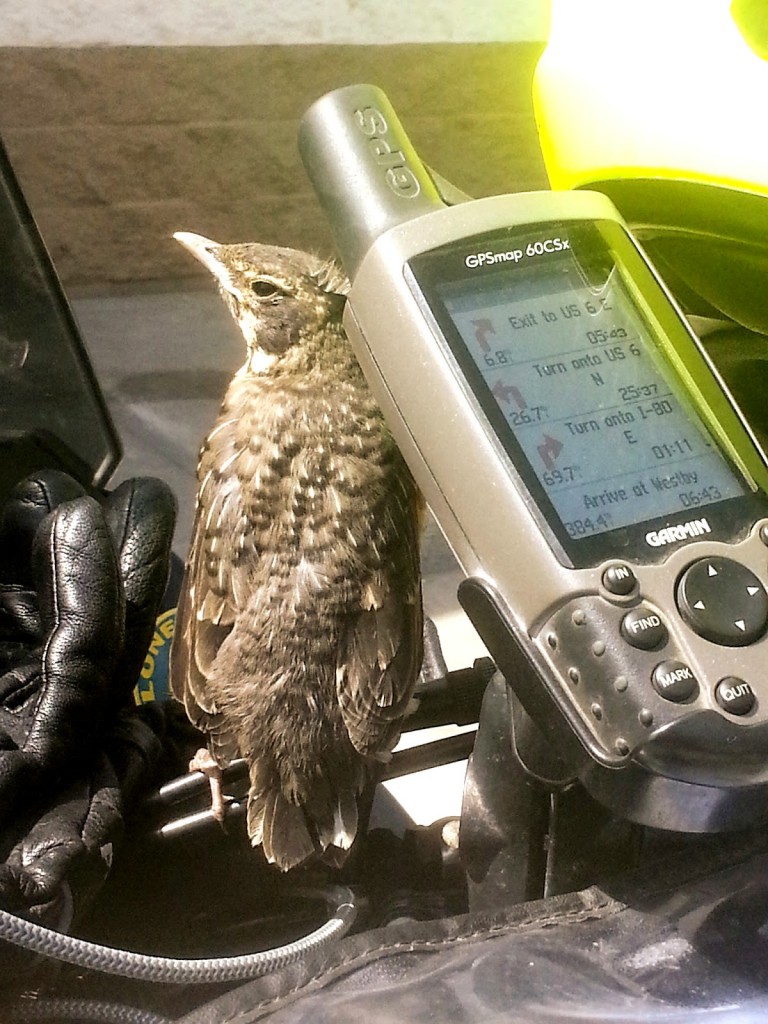 After blasting through Des Moines Iowa, I stopped for gas and didn't even get off the bike.  I was getting that close to the finish feeling you get right before you fall on your face. I made it no more than 40 miles and I was losing it, just wiped out. I stopped at a rest area and they had a really nice grassy area with small hill and I went and laid down in the grass and took a nap. This was actually quite nice!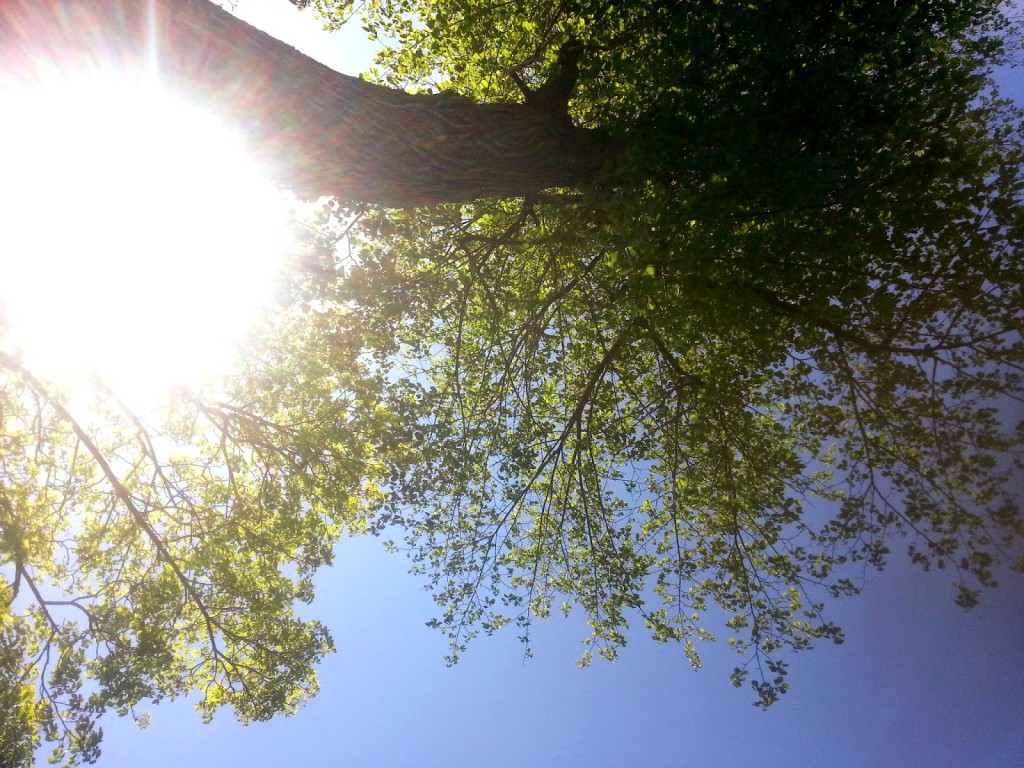 I made it through Dubuque Iowa and was finally back on home turf.  I stopped at a familiar stop to grab a sunset photo and the last photo from this trip and had my only tip over on the whole trip.  The bikes kick stand sunk in the mud and tipped over while I was taking photos.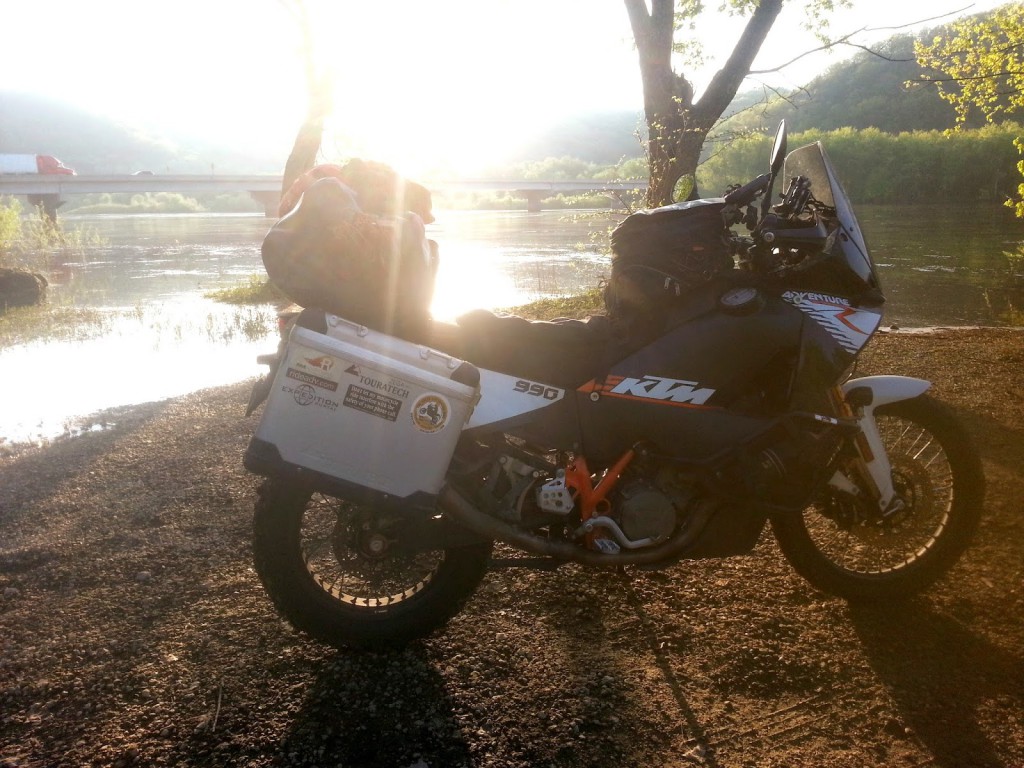 I rolled into home after dark, after another 700 mile day and had a grand total of 4039 miles.
"Life isn't about finding yourself. Life is about creating yourself."
― George Bernard Shaw